StopCityFraud.com: Make Cities Obey the Law
City of Lakewood used as Tool for Harassment, then decides to accelerate by itself.
The City of Lakewood has harassed us almost every year since 2013, but Municipal Codes don't apply to our Back Yard or a Non-Op Car in our Driveway.
A neighbor didn't like looking over our 6-foot fence into our back yard with 2 BBQs, 8 bikes hanging from a rack, a swing set, and a garden of wild spinach/goosefoot/lanb's quarter, among other things.
The City redefined a description in logic "inoperative" to prohibit any vehicle that can't be driven on the streeet, including RV and cars that have Permits from California to be kept non-Operational in a driveway.
Since 2013, we have actually tried to cooperate with the City of Lakewood on many things: we painted over minor paint chips on a post and window and siding trim areas, we prettied up our flower beds more, but nothing satisfied the City and our neighbor.
They tried to declare our Property a Public Nuisance, but the Planning Commission held a hearing on November 3, 2016 and decided that our Back Yard and Pet Door were not Public, so they ruled to Abate a Private Nuisance, which the California Codes don't allow. Civil Code 3494 allows the City to abate a Public Nuisance, not a Private Nuisance. The agency summary, section 8 stated " Any reference to the term "public nuisance" shall be replaced with the word "nuisance"" We appealed that decision to abate a Private Nuisance and Code Enforcement withdrew the action before a hearing on appeal with the City Council on March 14, 2017 by saying we complied.
The City lost in their own hearings, so they decided to fool the Court into helping them harass us:
2/21/2018: CA Superior Court, Bellflower, Judge Tsao signed an Administrative Inspection Warrant to allow the City to conduct a Fishing Expedition in our Back Yard (within the curtilage of a 6 foot fence). The Affidavit by the City Employee was insufficient, and stated simply "Since the property located at 5708 Candor Street, Lakewood, California 90713 may pose a danger to the health and safety of the local residents and since the property owner refused entry into the rear yard for an inspection, I am requesting an Administrative Inspection Warrant be issued to inspect the rear yard of the property."
There were no allegations of violations of "of a state or local law or regulation relating to building, fire, safety, plumbing, electrical, health, labor, or zoning, which, if such violation existed, would be an immediate threat to health or safety", as required by Code of Civil Procedure 1822.56. By not stating it, the City admitted that there is no immediate threat to health or safety.
We requested an ExParte Hearing to Quash the Warrant, which was denied. The City used the Warrant to trespass on our private property without our permission to "inspect" our back yard.
The City filed a "Return of Administrative Inspection Warrant", which did not mention any Hazard to Health and Safety, but merely named 4 Municipal Codes alleged to be violated: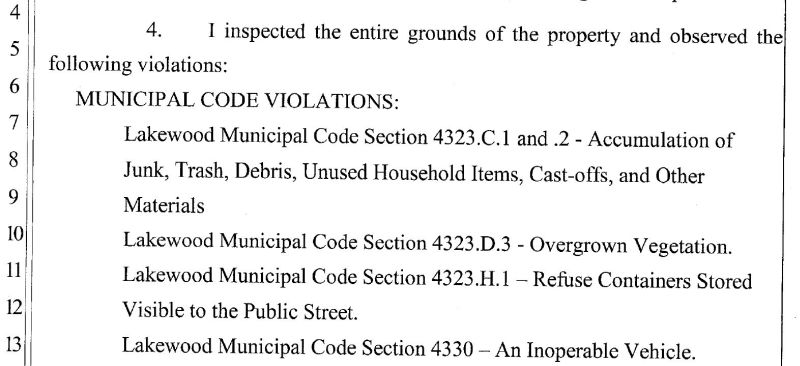 So, a trash can was visible from the street, some back yard plants were higher than they'd like, and they'd like me to get rid of some bicycles and our swing set, because it hadn't been used for a while – all aesthetic opinions about our private property in our private back yard, with no hazard to Health or Safety.
4/12/2018: CA Superior Court, Bellflower, Judge Tsao signed an 2nd Administrative Inspection Warrant to allow the City to conduct a Fishing Expedition in our Back Yard (within the curtilage of a 6 foot fence).
We requested an ExParte Hearing in Court to Quash the Warrant, which was denied. The City used the Warrant to trespass on our private property without our permission to "inspect" our back yard.
2 Violations of our Right to Privacy and Property without unreasonable Search and Seizure, protected by the 4th Amendment and Article 1 of the California Constitution.
Now, they also want to tow away a vehicle that they say is "innoperable", with no evidence, but try to use Municipal Code 44330 (G) to arbitrarily classify as "Inoperative". These Municipal Codes are applicable on the streets or on City Property, but not on Private Property. Unlike State Codes relating to building, fire, safety, plumbing, electrical, health, labor, or zoning, Municipal Codes are not Law, don't apply to Private Property, and can't be used to get a Warrant under Code of Civil Procedure 1822.56.
____________________________________________________________________________________________
Government is out of Control!
Cities, Counties, States and the Federal Government are overspending and over-controlling.
In the past, Cities have left the individual alone. The IRS, FTB, ATF, FBI, CIA and other higher govenment entities have been the ones to usurp power.
Now, Cities are getting out of hand, too.
Palo Alto v. Leibrand: Gardening Grandma Arrested for Failure to Prune
In Palo Alto, Calif., a 61-year old grandmother was arrested and almost went to jail,
because "her hedge of xylosma bushes was more than 2 feet tall".
This was covered in the Monday, December 8, 2003 edition of the Daily Press, which commented "While she won her fight with cancer, she couldn't prevail over city hall. But frankly, she shouldn't have had to try.".
Check out the grandma's story at dailysignal.com/2010/05/14/criminalizing-unsatisfactory-hedge-pruning/ (Criminalizing Unsatisfactory Hedge Pruning)
Stockton arrests Lady for sharing Ceviche with PotLuck Facebook Group. 1, 2, 3, 4
Landlord helps near-homeless with low rents – City goes after him because repairs after vandalism aren't fast enough. 1, 2
2 Peter 2: 2-3) warns us "and through covetousness shall they with feigned words make merchandise of you"
_______________________________________________________________________________
Lakewood, CA allows Michael Downs to Harass Us thru the City
Michael Downs, the son of a neighbor, (who does not even live in Lakewood – apparently lives at 2257 Jeans Ct, Signal Hill), has been complaining to the City of Lakewood for years about our property. He doesn't like our mini-RV parked in our driveway, but the Non-Opp status granted by DMV makes it legal. Because he couldn't get the City of Lakewood to force us to get rid of the mini-RV, Michael Downs has constantly made PETTY COMPLAINTS to the City of Lakewood. Michael Downs' PETTY COMPLAINTS are continued HARASSMENT, using the City as a pawn to harass us. It appears that the City has received complaints from him that:
our lawn isn't green enough (in a drought, we should water less),
that our front flowerbeds weren't pretty enough (so, we made them prettier),
that our front porch post had a small amount of chipped paint (so we repainted it),
that our bikes at the side of the house weren't pretty enough (so, we put them behind a gate),
that we shouldn't have a pet door to our garage for our cat to go in and out,
some Paint on the eaves in our back yard was chipping (so we painted there too),
my (tall) garden of wild spinach in my back yard didn't look nice (now removed, season over),
we should remove the swing set and BBQ in my back yard,
etc.
We fixed every petty thing he complained about, except we're not blocking the Pet Door in the Garage Door that our Cat uses, and we're not getting rid of the swingset, BBQ, etc in our Back Yard. Michael Downs made a false complaint to the City of Dog Poop in the Back Yard, which SEACA quickly determined was false.
Lakewood's Planning Commission found no "Public Nuisance", so they ruled it was just a "Nuisance" – without Jurisdiction under color of law
The City's Code Enforcement didn't know what to do, so they finally asked the Planning Commission to see if we should be declared a Public Nuisance. At the Public Nuisance Hearing on November 3, 2016, it was obvious that nothing on our property rose to the level of a "PUBLIC NUISANCE', so the Commission decided to remove the word "Public" and just make it a "Nuisance". Sorry, Commissioners, if it's not a Public Nuisance, it's a Private Nuisance, which is not a crime and the City has no business acting on something that 1 neighbor doesn't like.
Our House in 2013 – Was it Offensive? A Nuisance?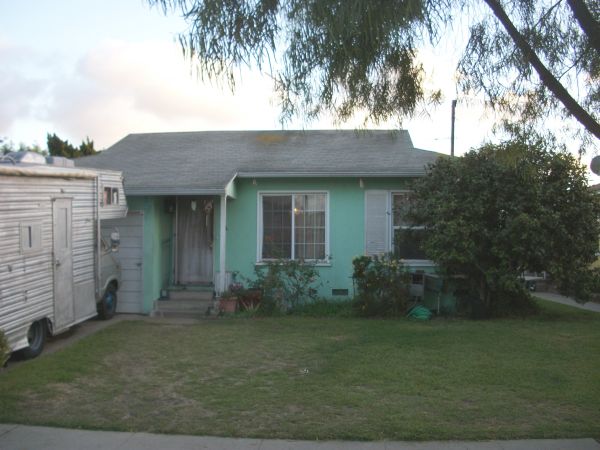 Our House in 2016 – Is it Offensive? A Nuisance?
Or just Retaliation for our Trump Sign??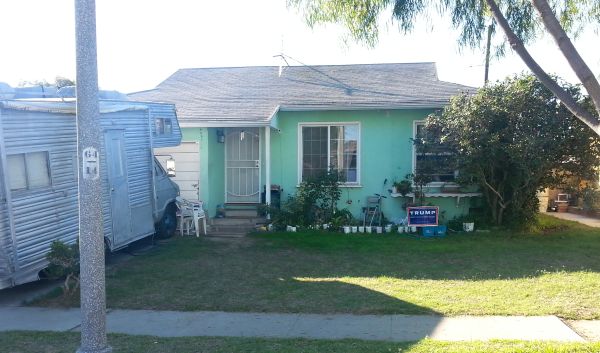 Is this 9×9 inch Pet Door Offensive? A Nuisance to Whom?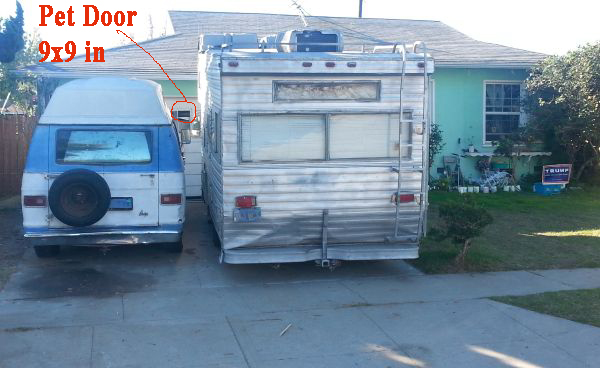 How about our Back Yard? Is it Offensive? A Nuisance to Whom?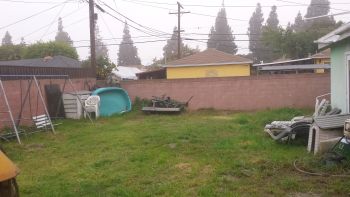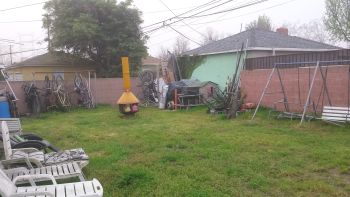 We're tired of fixing PETTY THINGS that Michael Downs is complaining about!!
We fixed everything they asked except for their request to cover the Pet Door and throw away more possessions in the Back Yard.
They had a Public Nuisance Hearing on November 3, 2016, and they found that it was not a Public Nuisance, so they declared it a "Nuisance" (without the word "Public") instead. Planning and Environmental Commission Resolution 14-2016.
California Civil Code says that any nuisance that is not a Public Nuisance under 3480 is a Private Nuisance. (There is no other). A Private Nuisance is a private tort by a neighbor that a City is not allowed to get involved in. Their is no "Municipal Affair", nothing "public" and no "necessity for immediate abatement"
As quoted and stated by the California Appellate Court:
"While we have not found authority in California that states where the burden of proof lies, other jurisdictions have held that the municipality has the burden of proof of the nuisance and the necessity for its immediate abatement. (See Solly v. City of Toledo, supra, at p. 466; Crossman v. City of Galveston, 112 Tex. 303 [247 S.W. 810, 815, 26 A.L.R. 1210]; Lawton v. Steele, 152 U.S. 133, 135 [38 L.Ed. 385, 388, 14 S.Ct. 499].) We feel that the reasoning of these cases should be applied here. Such conclusion is consistent with the rule requiring the state to have the burden of proving." Leppo v. City of Petaluma (1971) 20 Cal.App.3d 711 at page 718
The City of Lakewood is another City that is overeager to unnecessarily enforce Municipal Codes on non-City Property without any necessity, where there is no "Public" Nuisance or need.
Update March 13, 2017 (before City Council Hearing on Appeal 3/14/17):
The City Manager sent us a letter stating "…on March 9, 21017,Code Enforcement staff conducted a follow up inspection and established that the remaining two violations had been corrected sufficiently for the Community Development Director to determine that at this point in time that the property was in substantial compliance with the Lakewood Municipal Code." and "RECOMMENDATION That the City Council accepts and files this report, as the subject matter of the appeal is moot and compliance with the original Final Notice of Violation has been accepted by the City."
(The Pet Door and Back Yard have not been changed, but the City is backing off)
Documents
Agenda and Notice 11/3/16
Agenda and Notice 11/3/16,
Hearing Summary 11/3/16,
Resolution 11/10/16, Appeal 11/14/16.
Does Michael Downs have a pattern of Harassment?
1) CA Superior Court Los Angeles County Case # VD030155 TRO/Domestic Violence 6/18/1997
Loretta V. Downs v Michael Downs – to Protect Derrick 12/14/94 & Michael Jr 8/10/91 at 17825 Clark Ave Bellflower
It was alleged that Michael came several times and stole TV and furniture while Loretta was gone and a relative was watching the 2 kids.
2) CA Superior Court Los Angeles County Case # VS006831
Yolanda Batriz v Michael & Loretta Downs – Civil Harassment granted 10/8/1997
3) Michael Downs sued Long Beach twice:
8/17/1994-6/29/1998 CA Superior Court Los Angeles County Case # SOC074310
9/3/1987 – 9/23/1991 CA Superior Court Los Angeles County Case # SOC089152
Listen to the Audio of the Hearing and Decide for Yourself:
(Suggest Download 13MB) MP3 Audio of 11/3/16 Hearing
Notes of Times ofTestimony at 11/3/16 Hearing
Notes
Cities in California
In California, Cities have often gotten totally out of hand, so the Legislature had to start restricting them more.
In 1967, the ability of Municipal Corporations to issue Citations or Notice to Appear was repealed (former Penal Code 853.1 to 853.4).
In 1970, the California Legislature repealed provisions for municipalities to enact ordinances or regulations imposing restrictions equal to or greater than those imposed by the state. California Health and Safety Code 17958.5, requires that the Building Code can only be amended for geographical, topographical, or climatic reasons, not by whim..(see Briseno v. City of Santa Ana 6 Cal.App.4th 1378, 8 Cal.Rptr.2d 486 (4th Dist 1992), Building Insustry Assn. V. City of Livermore, 45 Cal.App.4th 719, 52 Cal.Rptr.2d 902 (1st Dist 1996), Baum Electric Co. v. City of Huntington Beach 33 Cal.App.3d 572, 109 Cal.Rptr. 260 (4th Dist 1973), Gonzales v. Santa Ana 12 Cal.App.4th 1335, Cal. Apt. Assn v. City of Fremont 97 Cal.App.4th 693.
Many Cities are using False Pretexts for Domination, usually labeled an unreasonable application of the Municipal Code or Building Code, because it is not for any needed purpose or exigent circumstance. "A legislative body may not, under the guise of the police power, impose restrictions that are unnecessary and unreasonable upon the use of private property or the pursuit of useful activities. (McKay Jewelers vs. Bowron)." In Chantiles vs. Lake Forest II Master Homeowner's Assn, 37 Cal.App.4th 914,922, (1955), the Court terms the [government's] actions as "a clear cut case of a 'nanny state' – nanny in almost a literal sense – going too far. These actions flew in the face of one of the most ancient precepts of American society and Anglo-American legal culture. "A man's house is his castle" was not penned by anonymous, but by the famous jurist Sir Edward Coke in 1628." "It is of far greater concern to effectuate an incremental whittling away of private property rights absent demonstrable public harm."
Hurwitz v. City of Orange, (September 24, 2004) (cite as: 2004 WL 2129731 (Cal. App. 4 Dist.) "… a city's finding of "nuisance" could be found by a trial court to be pretextual (as a cover for the substantive taking of property, or as here, a property right), this is it. "in substance, the sequence shows that the city was not using its police power to abate a nuisance. Rather, it was trying to use its police power to abate nuisances as a fig leaf to hide the rather naked expropriation of an existing property right." "We need only add that there is precedent for the point that a public entity cannot mask what is substantively a taking merely by invoking its nuisance power."
Most Cities have no charter granting them exclusive jurisdiction for "Municipal Affairs", and thus, each as a Municipal Corporation with the limited powers of a General Law City, is subject to County and State Codes and Statutes, with which it is in conflict. (An ordinance which prohibits the same acts which are forbidden by state law is void to extent that it duplicates state law. People v. Commons (Super. 1944) 64 Cal.App.2d Supp. 925, 148 P.2d 724; see Municipal Corporations 592(2).
The police powers of a city under Government Code 38660 include the power to regulate construction, but not maintenance and use, unless they are unsafe for renters and the public: it is not designed to protect the owner from himself.
Health and Safety Code section 17912. "Rules and regulations promulgated pursuant to the provisions of this part and building standards published in the State Building Standards Code, relating to the erection or construction of buildings or structures, shall not apply to existing buildings or structures or to buildings or structures as to which construction is commenced or approved prior to the effective date of the rules, regulations, or building standards, except by act of the Legislature, but rules, regulations, and building standards relating to use, maintenance, and change of occupancy shall apply to all hotels, motels, lodginghouses, apartment houses, and dwellings, or portions thereof, and buildings and structures accessory thereto, approved for construction or constructed before or after the effective date of such rules, regulations, or building standards."
Building Code 3401 essentially grandfathers in existing structures that are safe.
Many Cities still go beyond their authority in the application of Building Codes. The City's Building Official, Code Enforcement Dept., and Dept. of Community Development all work under the auspices of the California Department of Housing and Community Development, whose vesting authority is delimited in 2001 California Building Code section 101.17.
Join us in returning Government to the People. Help us teach Renegade Bureaucrats their Constitutional Limits.
Contact Jim Krage at jimk@cyberdude.com if you want to help.